What does the price for health stand for
However, the healthier children are allowed to eat,
the lower your risk of becoming overweight,
the lower your risk of developing tooth decay,
the better they can develop,
the better you can concentrate and learn
the lower their risk of allergies and chronic diseases and
the more likely it is to develop an awareness of one's own body and how one can maintain and keep it healthy with a healthy diet.
Improve the nutritional concept - win the ZDG prize!
All daycare centers are therefore called upon to take part! Review your nutritional concepts and meal plans. Take a look at which improvements can be implemented where! Then send us a description of your daycare nutrition in its current state (including a current weekly menu) and a description of the planned changes to your nutrition concept. In six months you will send us the results of the implementation of the new nutritional concept including a new weekly menu.
We award three daycare centers with the most promising concepts and the best implementations and receive the ZDG award for the healthiest daycare centers in German-speaking countries. All daycare centers in Germany, Austria and Switzerland can take part. The first prize is endowed with 10,000 euros, the second with 6,000 euros and the third prize with 4,000 euros.
When designing your concept, please consider the following criteria:
Criteria for a healthy daycare diet
Are the following rules being observed? If so, to which extent? And what should change to what extent in the future?
Meals are freshly prepared on site, if possible, in the day care center.
The meals are composed as far as possible from food of organic quality.
The meals are composed as varied as possible from regional and seasonal foods.
The meals are prepared in a way that is gentle on vital substances.
The meals do not contain industrial sugar. Sweet dishes that should rather be offered as an exception (e.g. once a week) are sweetened with natural sweeteners, which are used sparingly, e.g. B. maple syrup or honey.
Instead, fresh or dried fruits, sugar-free muesli bars, nuts or the like are available as snacks between meals.
Meals do not contain any ready-made products (ready-made soups, canned fruit, ready-made sauces, dips, etc.), if necessary, ready-made products (e.g. ketchup) from the health food store can be used. However, ketchup is also very easy to prepare fresh.
The meals are largely wholesome - mainly consisting of vegetables or salads and wholesome side dishes (wholegrain rice, millet, potatoes, polenta, wholegrain spelled couscous, wholegrain wraps, wholegrain pancakes, etc.).
Salads are not sausage, pasta or rice salads, but raw salads made from z. B. green leafy vegetables, tomatoes, cucumbers, peppers, sprouts, carrots, beetroot and much more.
Meat is served a maximum of twice a week (organic meat from pasture farming), fish once a week (exclusively from sustainable fishing or from organic aquaculture).
Dairy products are only used in organic quality. Individual intolerances are taken into account so that herbal alternatives are always available.
Nutrient-rich vegan / vegetarian alternatives for children from vegan / vegetarian families must be offered on meat / fish days or during meals made from dairy products.
ZDG film team shoots in your day care center!
Of course, the area of ​​health also means that the children are allowed to be active in the fresh air and in nature, but also to be able to exercise sufficiently in the daycare rooms in bad weather. You are welcome to include these (and other health-relevant) aspects in your description of your daycare center. The more comprehensive your report and the more comprehensive your measures to optimize your daycare center, the higher the chance that your daycare center will be among the winners.
Our ZDG film team will finally visit the three healthiest daycare centers and shoot a daycare documentary. In this way, the three winners can serve as role models for many other daycare centers and thus not only contribute to the health of their "own" children, but also to the health of many other daycare protégés.
Please send us your first application (without attachments) by email to [email protected], in which you express your interest in participating. As soon as 20 daycare centers have registered with us, we will contact you and let you know how to proceed. We look forward to you and your daycare :-)
P. S. Child minders who look after at least 10 children can also apply to participate.
Current situation
Despite extensive advertising for our project and repeated publication of the corresponding information in our newsletter, unfortunately only a few interested parties had contacted us. Often it was not even the daycare manager himself, but parents or educators, so that in the end - as sorry as we are - we can no longer pursue the project.
We would like to take this opportunity to once again thank all interested parties who have contacted us and would have liked to campaign for a healthier diet in the daycare centers. We wish you all the best!
Your team from the center of health
display
Distance training to become a holistic nutritionist
Are you interested in what's in our food and want to know how nutrients and vital substances affect the body? Do you want a healthy life for yourself, your family and fellow human beings? Nutritionists are popular - but the holistic aspect that is needed for sustainable health is often forgotten when giving advice. At the Academy of Naturopathy, you will get to know the connections between lifestyle and diet as well as physical and psychological well-being.
That educates interested people like you in around 16 months to become a holistic nutritionist out.
Is this article worth reading?
Share this article
swell
Catering in day-care centers, January 2016
Is (s) t KiTa good ?, Bertelsmann Foundation, 2014
Dehghan M et al, Childhood obesity, prevalence and prevention, Nutrition Journal, September 02, 2005, (Childhood obesity, prevalence and prevention)
Feldstein AE et al, Obesity, Nutrition and Liver Disease in Children, Clinics in Liver Disease, 2014 Feb; 18 (1): 219-31, (Obesity, Nutrition and Liver Disease in Children)
Tinanoff N et al, Dietary determinants of dental caries and dietary recommendations for preschool children., Journal of public health dentistry, 2000 Summer; 60 (3): 197-206; discussion 207-9, (Dietary determinants of tooth decay and nutritional recommendations for preschool children)
Llena C et al, Dietary habits in a child population in relation to caries experience., Caries Research, 2008; 42 (5): 387-93, (Dietary habits in children in relation to the incidence of caries)
Mobley C et al, The Contribution of Dietary Factors to Dental Caries and Disparities in Caries, Academic Pediatrics, November-December 2009, (The Contribution of Dietary Factors to Dental Caries and Disparities in Caries)
Llena C et al, Association between the number of early carious lesions and diet in children with a high prevalence of caries., European Journal of Pediatric Dentistry, 2015 Mar; 16 (1): 7-12, (Relationship between the number of early caries lesions and nutrition in children with a high prevalence of caries)
Rosales FJ et al, Understanding the Role of Nutrition in the Brain & amp; Behavioral Development of Toddlers and Preschool Children: Identifying and Overcoming Methodological Barriers, Nutritional Neuroscience, 2009 Oct; 12 (5): 190202, (Understanding the role of nutrition in brain & behavior development of toddlers and preschoolers: identifying and overcoming methodological barriers)
Nyaradi A et al, The role of nutrition in children's neurocognitive development, from pregnancy through childhood, Frontiers in Human Neuroscience, 2013; 7: 97, (The role of diet in the neurocognitive development of children, from pregnancy through childhood)
Bateman B et al, The effects of a double blind, placebo controlled, artificial food colors and benzoate preservative challenge on hyperactivity in a general population sample of preschool children, Archives of Disease in Childhood, 2004; 89 499-499, (The effects of a double-blind, placebo-controlled study of the effects of artificial food colors and benzoate preservatives on hyperactivity in a sample of preschoolers from the general population)
Konofal E et al, Iron deficiency in children with attention-deficit / hyperactivity disorder., Archives of Pediatrics & ampamp; Adolescent Medicine, 2004 Dec; 158 (12): 1113-5, (Iron Deficiency in Children with Attention Deficit / Hyperactivity Disorder)
Akhondzadeh S et al, Zinc sulfate as an adjunct to methylphenidate for the treatment of attention deficit hyperactivity disorder in children: A double blind and randomized trial, BMC Psychiatry, April 08, 2004, (Zinc sulfate as a supplement to methylphenidate for the treatment of attention deficit / hyperactivity disorder at Children: A Double-Blind and Randomized Study)
Richardson A, Omega-3 fatty acids in ADHD and related neurodevelopmental disorders, International Review of Psychiatry, 11 Jul 2009, (Omega-3 fatty acids in ADHD and related neurodevelopmental disorders)
Notice on health issues
This information is passed to the best of my knowledge and belief. They are intended exclusively for those interested and for further training and are in no way to be understood as diagnostic or therapeutic instructions. We do not assume any liability for damages of any kind that arise directly or indirectly from the use of the information. If you suspect illness, please consult your doctor or alternative practitioner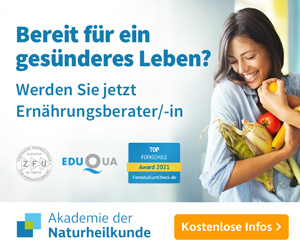 Subscribe to Newsletter
Exciting information about health and nutrition
1x per month
Login Successful. You will shortly receive a confirmation at the specified email address.
With your registration you allow the regular sending of the newsletter and accept the data protection regulations.
HEALTH CENTER © 2021 Neosmart Consulting AG. All rights reserved.