John Debella Howard Heck funeral
Another Third Wednesday Luncheon!
Wednesday, December 20th, 2017!
| | |
| --- | --- |
| | |
Good Food - Great Programs - Wonderful Times
Reserve by e-mail: [email protected]
Reserve by phone: (856) 365-5600!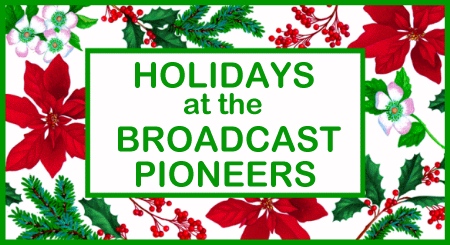 Reserve by e-mail: [email protected]
Reserve by phone: (856) 365-5600!
It's our traditional holiday gathering. Plenty of music, wonderful conversation and good cheer. It all takes place on Wednesday, December 20th at the Bala Golf Club.
If you are a memberand your dues are paid up-to-date, your cost for the luncheon is only $ 10. It's our holiday gift to you. Everyone else is at the regular price of $ 28. You must reserve your space in advance by calling or e-mailing us in order to get the special $ 10 price.
Your dues aren't up-to-date? No problem! Pay what you owe and then your lunch is at the $ 10 charge. Not a member? No problem! Join that day and you'll get the $ 10 price.
Remember, your lunch will cost us more than double what you are paying. We had a good year and it's our holiday present to you. It's our way of giving back to membership. (Besides, it's a sneaky way to get you to pay your dues! LOL)
In doubt as to whether your dues are up-to-date? E-mail us and we'll tell you: [email protected].
Reserve by e-mail: [email protected]
Reserve by phone: (856) 365-5600!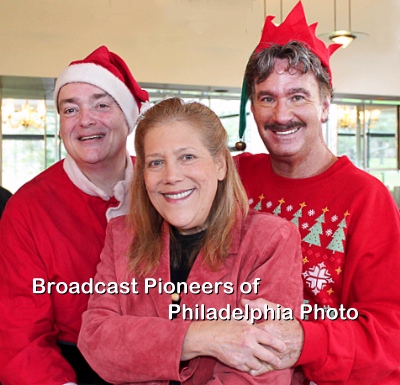 Your MC for the afternoon will be Broadcast Pioneers member "Santa" Bob Charger, local radio personality. You don't want to miss him. Bob will be there wearing a complete Santa suit and hat. Seeing this alone is certainly worth the trip.
Here's some of the performers that will be with us: Danny and the Juniors, The Rip Chords, Billy Carluccci (of Billy and the Essentials), Kenny Jeremiah (formerly of the Soul Survivors), Frank Jordan of the Jordan Brothers, Eddie Collins ( former music director of the Drifters), The Tridels, Sandee Bengel, Paul Big Bear, John Primerano, Joe Pellegrino, Bob Kravitz, Art Wilson, Bill Wright, Sr. and Meagan Hill.
It all takes place at the beautiful and historic Bala Golf Club, 2200 Belmont Avenue (across the street from the state police) in the Wynnefield section of Philadelphia. Only minutes away from Channels 6, 10 and 17 and the radio stations in Bala Cynwyd. Call now for reservations. (856) 365-5600! E-mail: [email protected]. Don't miss this one! THIS EVENT IS OPEN TO THE PUBLIC! Make plans to be there. Meet and Greet starts at 12 noon. Lunch is served at 12:30 pm. It includes a nice, fresh, green salad with dressing, a roll, a 3-course meal, dessert, iced tea and coffee.
Plenty of FREE parking. Our luncheons are open to all our members, their guests and any person in the industry or associated fields, whether active or retired. You do NOT have to be a member to attend. There is no reserved seating at our luncheons. Feel free to sit anywhere. Well, okay - the three people on the camera crew sit near the cameras, but that's in the back of the room.
In order to speed up check-in at the luncheon, it would help if you had exact change or your check written in advance. Checks should be made payable to the Broadcast Pioneers of Philadelphia.
If you would like to add a few dollars extra, we would appreciate it. It would help us with all the important work we are doing. Thanks!

Visit Our Website Often - http://www.broadcastpioneers.com
You should check the front page of our website often (link above) for important information!
Tune in to our YouTube Channel - http://www.broadcastpioneers.com/youtube
Our YouTube Channel has all our luncheons, exclusive interviews and archival material!
Check out our Facebook Page - http://www.broadcastpioneers.com/facebook
There are things on our Facebook Page that are NOT on our website (like our vintage photo of the week)
Go to our Twitter Account - http://www.broadcastpioneers.com/twitter
The Broadcast Pioneers Twitter Account has info and stuff not available elsewhere!
Go to our Instagram Section - http://www.broadcastpioneers.com/instagram
Here's another one of our social media sections. Visit it as often as you wish!

DIGITAL ARCHIVAL PROJECT NEWS:
VIDEO: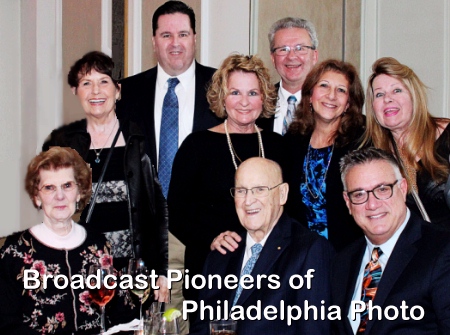 It was the event of the year. It was a WHO'S WHO of Broadcasting. Everyone, pretty near, who's anyone was there. It was our annual banquet. We honored our "Person of the Year" and our inductees into our "Hall of Fame."
Broadcast Pioneers member Ralph "Bud" Galow worked for over four decades at KYW Radio. He engineered the very first KYW Newsradio "all news, all the time" newscast in September of 1965. Three months earlier, he was at the controls when WRCV Radio became KYW Radio. Galow is the first engineer / technician ever to receive the honor of "Person of the Year" from Broadcast Pioneers.
Watch Bud Galow being honored as our Person of the Year
We also honored nine people posthumously. They were all inducted into our Broadcast Pioneers Hall of Fame. The honorees were: Murray Arnold, Doug Arthur, Ray Bowley, Jonathan P. Casey, Frank Chirkinian, Betty Kellner Davis, Mike Grant, Bob Knox and Keneth Simons.
Watch the Posthumous ceremony!
AUDIO:
It's early Monday morning, August 2, 1971. It's just past 4:30 am. It was time for an update on the flight of Apollo 15, the ninth manned flight of Apollo. It was the fourth time that Americans had landed on the moon. During this excerpt, there was a live report from Jim Slade, who was covering the flight for all the Group W stations.
Slade was there from the very beginning covering the American manned spaceflights. Besides working for Westinghouse, he also reported for ABC, NBC, CNN and Mutual. (Jim also authored a book about the battle of Gettysburg). Jim was 34 years old at the time of this report. Jim knew aviation and had his own pilot's license.
Also heard on this 5-minute clip is Group W reporter Bill Hines who did a recorded report from Houston and the Manned Space Center. We cannot confirm but we believe the KYW Newsradio anchor to be Jim Gordon.
Lists in Real Audio!
Lists in Windows Media Format!
Our next clip comes from the same year, but two months later. The date is Sunday evening, October 3, 1971. Here's the complete WCAU Radio 10 pm newscast. The newscaster is Anne Crosman. Anne holds a master's degree in journalism from American University.
Two years after Anne's time here in Philadelphia, she went to CBS Radio to deliver hourly CBS newscasts. She was their first woman anchor and was still in her late twenties. Later, she went to NBC News. Here's the complete 10 pm WCAU Radio newscasts presented in its entirety.
Lists in Real Audio!
Lists in Windows Media Format!
A LITTLE BIT OF BROADCAST HISTORY!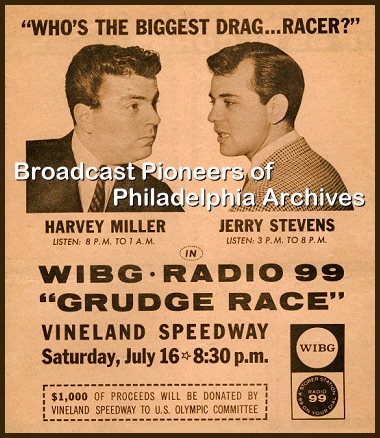 IN TOUCH WITH OUR MEMBERS:
Broadcast Pioneers member John DeBella celebrated 35 years here in the Philadelphia market. John started here in Philly at WMMR as the host of "The Morning Zoo" and then came to WMGK a decade and a half ago. DeBella also did his own cartoon block on Channel 29, then WTAF-TV. John DeBella was inducted into our Hall of Fame on Friday evening, November 21, 2014.
Beasley Media Group, Inc., a subsidiary of Beasley Broadcast Group, Inc. announces 102.9 WMGK-FM's 2017 John DeBella Turkey Drop collected more than 12,800 turkeys and donations to benefit needy families and individuals across Philadelphia during the holiday season. The annual event is the largest one day food gathering event of the year. The 2017 total from this year's event far exceeds the amount collected from previous collections. DeBella is a member of Broadcast Pioneers.
Member John Primerano will again be appearing at the Banquet Room at Tiffany's on Roosevelt Blvd. The date is Sunday, December 10th for a dinner and show at 5 pm. John has appeared there many times in the past and we've heard that the shows were always well received.
Talk Radio 1210 presents The 9th Annual Dom Giordano Feast of the Seven Fishes on Monday, December 18, 2017 from 6:30 to 10 pm. It all takes place at Sonesta Philadelphia Hotel, 1800 Market Street, Philadelphia. National Person of the Year: Jeffrey Lord. Live Music with a Traditional Feast. Listeners will enjoy a huge buffet. Free parking. Dom is a member of Broadcast Pioneers and was a co-emcee at this year's banquet.
We heard from member Bob Kelly, traffic guru at Fox 29. We inducted him into our Hall of Fame last month. Bob tells us:
My wife and I are working with Nemours A I DuPont Hospital for Children to help build a closed circuit TV Studio. It will connect patients who are not able to leave their rooms with the rest of the hospital and provides a therapeutic outlet for the kids while they are stuck in the hospital.

It will allow for guests to come visit and speak to the whole population, recording artists, sports figures, other celebrities, can come to the studio and be a guest on a show and allowing for music artists to visit while on tour and make a stop to perform for the kids. I am looking to gather ideas to help build this great community studio at the hospital.
Broadcast Pioneers member Skip Clayton of WBCB has written a new book entitled, So You Think You're an Eagles Fan "with the forward by member Merrill Reese, voice of the Eagles and owner of the station where Skip works. This book tests and expands your knowledge of the Birds. Rather than merely posing questions and providing answers, you'll get detailed accounts, each of which brings to life players and their coaches. Learn more about the Eagles of today and yesterday in Skip's latest book. He has several book signings coming up this month at area Barnes and Nobles stores. On another subject, we asked Skip to tell us a little about his knowledge of Jim Leaming, sportscaster on WIP Radio and WRCV-TV (and later when it became KYW-TV) . He told us:
I remember Jim Leaming from my first job as a copy boy in the news room for WRCV Radio & TV. Both radio and television shared the same newsroom and I worked from 11:30 at night until 7:30 the next morning and I did not see Jim much then.

When I became the Record Librarian for WRCV Radio when it was the Big Band Station, the record library was next to the newsroom and I would see Jim everyday along with Vince Leonard and Wally Kinnan, the weatherman.

Wally loved big bands and we would talk about the music. He played trumpet with the big bands of Jimmy Dorsey and Charlie Barnet. I remember having some great sports conversations with Jim Leaming back then. WRCV, both radio and television was owned by NBC and we carried the World Series.

Jim was a heck of a nice guy and we had a lot of great conversation, but I thought his work on television was outstanding. He was a top notch broadcaster and one of the best in Philadelphia television. The trio of Leonard, Kinnan and Leaming was as good as any in Philadelphia.
Today's News Becomes Tomorrow's History!

A LITTLE BIT OF BROADCAST HISTORY!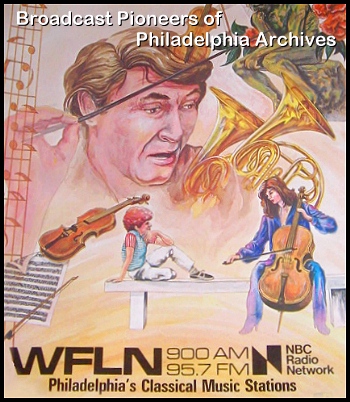 Did you know ...

that the WIBG call letters were NOT selected to stand for "Why I Believe in God" or "I Believe in God"? Well, it's true. The call letters WIBG were not selected at all. They were not requested but were assigned at random by the Department of Commerce. No matter what you have read and no matter what you have believed to be true, we are going to give you the real lowdown.
For more than a half-century, we have originally all heard that the church that owned WIBG selected the call letters to stand for "I Believe in God." It is nothing but URBAN LEGEND and we are going to shoot this whole idea of ​​a meaning right out of the water.
We have all heard that WIBG stood for "I Believe in God." In fact, Broadcast Pioneers Board Member Bill Wright, Sr., one of the original rock jocks on the old WIBBAGE told us that he heard this tale when he came to Philadelphia in 1957. So this rumor has been floating around for at least 60 years . But time doesn't make it true. It may strengthen the false belief but it doesn't make it any more true.
Just because something is old, does not mean it is true. We have a 1938 interview with Dr. Leon Levy (one of the owners of WCAU Radio in the 1920's, 1930's and 1940's). What he said about the history of the station in that interview simply isn't accurate. We have copies of the original government documents to support that it is not true. It's old (three quarters of a century) but is false. In fact, age has a tendency to add to legends without regard to truth. Sort of the truth be darned.
Well, let's get first things first. St. Paul's Episcopal Church did not ask for the call letters WIBG. This has been reported on many websites for many years. This is totally false. Check out this list of assigned call letters for the spring of 1925. The assignment was done by the U.S. Government.
WIBA - Madison, Wisconsin - April 1925
WIBC - St. Petersburg, Florida - April 1925
WIBD - Juliet, Illinois - May 1925
WIBF - Ashland, Wisconsin - May 1925
WIBG - Elkins Park, Pennsylvania - May 1925
WIBH - New Bedford, Mass. - May 1925
WIBI - Flushing, New York - June 1925
WIBK - Toledo, Ohio - June 1925
WIBM - Chicago, Illinois- July 1925
It's obvious that there is a pattern here. The government was assigning call letters in an order. Not by the choice of the licensee. So that shoots down the argument that the call letters were requested. They weren't.
It is just not true that the church asked for those call letters. If they didn't ask for them, there is absolutely no meaning. The call letters were assigned and selected by the government.
It's sort of a backronym. That is, a constructed phrase that purports to be the source of the word (or call letters, in this instance). In this case, a false etymology (a popular held but false belief about the origin of something).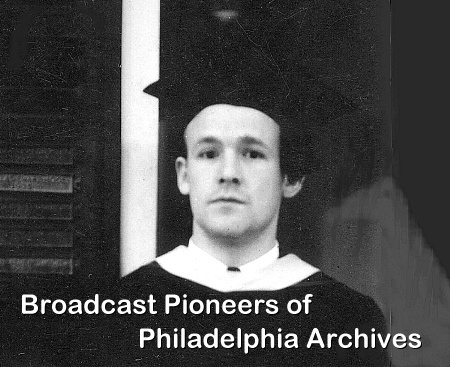 Last month, Broadcast Pioneers inducted Keneth Simons into our Hall of Fame. While Ken is basically known for writing the Bible for cable television operation, he did work at broadcast stations.
Keneth (yes, we are spelling it correctly) recorded some cassettes telling his life story to his family. Well, one of Keneth's daughters, Dona (she spells her name with one N also) sent us this quote from one of those tapes. He said: "In the summer before I went to college, I got a job running a little radio station in Elkins Park, WIBG, and every morning I would take my bicycle over to Elkins Park. It really was rather fun."
Simons, an amateur radio enthusiast, was a transmitter operator for WIBG. He worked for twelve cents per hour. The station was originally started and owned by a church. At the time, Simons worked there, the transmitter and studio were in the basement of the church. This shoots down the belief that the station only broadcast on Sundays (carrying the morning church service). They did broadcast everyday. So another part of the rumor is false. Remember, just because someone says something that doesn't make it true.
Gerry Wilkinson, our CEO and a nationally known broadcast historian, spoke to the church officials several years ago. While they have heard the rumor that WIBG stood for "I Believe in God," they never saw any such proof in any church records. It may be that no much proof exists.
For example, if this were the case, the church would have certainly promoted this meaning in their bulletins. They would have said something like "And listen to our Sunday morning church service on our Radio Station, WIBG and you'll find out 'Why I Believe in God (WIBG)." There was nothing like that. It was because the supposed meaning came along later. It's just a good (but untrue) story.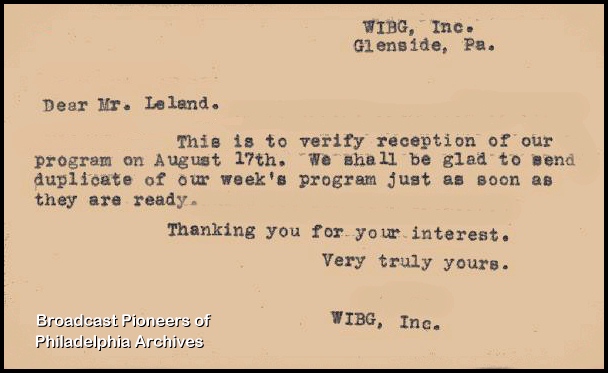 One thing that we do know is that the station came on the air as a 50-watt station. Some reports state it as 25-watts, but those reports are incorrect. Again, we have the original government documents. We do know that WIBG operated during its first year in existence at 1350 on AM. Then they moved to 680, and then 930 and then to 970 and eventually to 990 where they stayed until they changed call letters in 1977. Their successor still operates on that frequency.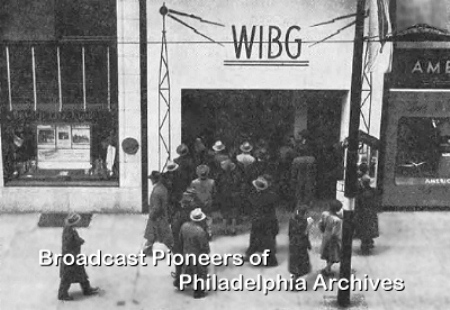 We also know that the church continued to own the station until October of 1931 when it was sold to WIBG, Inc., a for-profit Pennsylvanic corporation. The city of license moved to nearby Glenside in the spring of 1932. They stayed there for almost a decade before being relicensed to Philadelphia and moving to Center City. After another decade, the station moved to Lafayette Hills where it remained until the call letters stopped being used. The license stayed in Philadelphia. How did they get around the regulation of having to have a studio in your city of license? Simple. They did have a studio in the city of license, Philadelphia. The station maintained a small studio in the Suburban Station Building.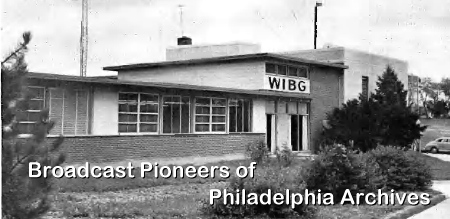 During the mid to late fifties and most of the sixties, WIBG was the big powerhouse here in the Delaware Valley. At that time, it was owned by Storer Broadcasting. It was the home of many legendary DJs including Joe Niagara, Hy Lit and Bill Wright, just to name a few. They were true legends.
The belief that WIBG stands for "I Believe in God" is nothing more than urban legend. It's a good story, but that's all it is. A good story. In fact, often people expand falsely in stories just to make them better and more interesting.
So the next time someone tells you that WIBG stood for "I Believe in God," you need to tell them the truth. Philadelphia has a wonderful broadcast history. We don't need to tell falsehoods about our history. It is rich and wonderful and full of great people like you who have made this market one of the best in our entire country. Be proud of it.
--------------------
By the way, the second part of the story (continued from last month's newsletter) about WCAU's transmitter will appear in our January 2018 newsletter. Be sure to look for it then.
This regular monthly column is written and researched by Gerry Wilkinson
Our special thanks go to TUTV - Temple University Television and The Kal & Lucille Rudman Media Production Center.

They have underwritten a grant to be used to fund an entire year of all our newsletters for calendar year 2017. We thank them so much for their support!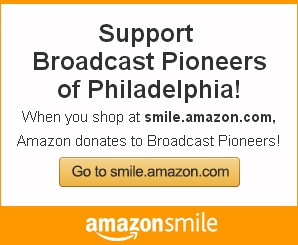 When you log into Amazon via http://smile.amazon.com, all eligible purchases earn Broadcast Pioneers a donation of 0.5% from Amazon. However, you must log in to Amazon through http://smile.amazon.com. We have made it simple. You can also log into them using http://www.broadcastpioneers.com/amazon. It's easy to remember and takes you to the same place.
AmazonSmile is the same Amazon you know. Same products, same prices and the same service. The only difference is that they donate 0.5% of your eligible purchases to Broadcast Pioneers. IT DOESN'T COST YOU ANY MORE TO DO THIS! Same price to you and we get a donation to help us continue with all our great educational projects! IT'S WIN - WIN!
MORE DIGITAL ARCHIVAL PROJECT NEWS:
VIDEO:
AUDIO:
Our next audio excerpt also dates from 1971 (just a coincidence). It's September and John "Records" Landecker is on WIBG and is talking about an upcoming event. George Benson, not the jazz artist, but the local DJ, told our CEO Gerry Wilkinson that he, Benson, had worked with Landecker. George asked, "How did you get the middle name 'Records' and John said, 'from my parents.'" Landecker then pulled out his driver's license and showed it to George. It did, indeed, say "John Records Landecker."
There's good reason for this. John's middle name is his mother's maiden name, "Records." She was a farm girl from the mid-west named "Marjorie Records." John was known for his line, "Records truly is my middle name." It's true. He's written a book with a similar title. Here's an excerpt of Landecker from 1971 on WIBBAGE.
Lists in Real Audio!
Lists in Windows Media Format!
Finally, our last piece of audio for this month comes from WNAR Radio in Norristown. The reporter is Al Novak, who later went to KYW Newsradio. It's 1976 and the federal government had just turned Valley Forge State Park into a National facility. The park is on the land where during 1777 and 1778, the War of Independence encampment for the American side was located under the command of General George Washington.
There are two different interviews with Horace Wilcox, the superintendent of Valley Forge State Park. The library on the site today is now named after Horace. The two interviews are presented one after the other.
Lists in Real Audio!
Lists in Windows Media Format!
Remember, History is ONLY What Gets Saved!

IN TOUCH WITH THE INDUSTRY:
Entercom, a Bala Cynwyd based corporation, has officially taken over CBS Radio and their O&O radio stations. CEO David Field himself announced a new 7 year agreement with the Philadelphia Eagles. The team will stay of 94 WIP through the 2024 season with Broadcast Pioneers member Merrill Reese continuing to do play-by-play. He's been there behind the 'birds' microphone since 1977. Member Howard Eskin will continue duties broadcasting from the guidelines. Reese was our Person of the Year in 2005 and Eskin was inducted into our Hall of Fame in 2011.
NBC10 / WCAU announced that Brittney Shipp, who previously worked for NBC10, will return to the station as a meteorologist joining Broadcast Pioneers member Bill Henley weekday mornings starting January 8, 2018. In addition, bilingual journalist Miguel Martinez-Valle will join NBC10 as a general assignment reporter starting December 18. Martinez-Valle comes to NBC10 from KVVU-TV in Las Vegas where he spent two years as a reporter and fill-in anchor. Shipp returns to NBC10 after working as chief meteorologist for KRON-TV in San Francisco for two years. She worked at NBC10 as a meteorologist from 2013 to 2016.
Entercom's WXTU-FM 92.5, Philadelphia's Country Station, has invited listeners to participate in its 18th Annual Toy Truck Parade to collect toys for The United Service Organization (USO) and The Boys and Girls Clubs of America. Participants were encouraged to get in the holiday spirit by decorating their cars, trucks, SUVs and emergency vehicles and filling them with new and unwrapped toys. The event included participation from WXTU-FM 92.5 on-air personalities, including Frank and Andie from the Morning Show. Last month, Bala Cynwyd based Entercom purchased the CBS Radio Network and their O&O stations.
CBS 3 has launched its 29th annual Toy Fest toy drive last week. It will benefit children in need this holiday season. The station will be soliciting new, unwrapped toys for local children through public service announcements airing through Monday, December 18th when CBS 3 wraps up the campaign with an all-day drive through drop-off at the CBS Broadcast Center, 1555 Hamilton Street in Philadelphia . One of the longest-running TV public service campaigns in the region, Toy Fest has provided toys for more than 100,000 children in need over the years.
The General Philip Hearny Elementary School located at Fairmount and 6th Street received ten laptop computers. It's all courtesy of Comcast Internet Essentials and KYW Newsradio. Broadcast Pioneers member David Yadgaroff, who is General Manager for the Entercom O&O stations in Philadelphia (formerly CBS Radio) said, "KYW is all about serving our community. We are lucky that we get to do such quality improvements in the community like this program .
Beasley Media Group, Inc., a subsidiary of Beasley Broadcast Group, announces that Eric Johnson has been named Director of Sports Content at the Beasley Media Group of Stations based here in Philadelphia. He started his new gig yesterday. Johnson spent the past two decades as the Brand Manager and Program Director at New
Jersey 101.5 FM. Prior to that, Johnson worked as the Assistant Program Director at WIP and was the
Program Director at Y-100 in Philadelphia. Eric is in charge of content for 97.5 The Fanatic, 610AM and the company's digital platforms.
The Federal Communication Commission has approved Entercom's sale of three of its FM radio stations to the Educational Media Foundation for almost 58 million dollars. One of them, WGGY, known as Froggy 101, is in the nearby Scranton-Wilkes Barre market. Non-profit EMF owns almost 800 stations programming an adult contemporary format.
This past week, WMMR's Preston and Steve, held their 20th annual Camp Out for Hunger. They collected non-perishable food items that were handed over to Philabundance. Acme Supermarkets played a part in the collection of items for the campaign.
WIP's Chris Carlin heads for the Big Apple replacing Mike Francesa on WFAN, where Carlin worked earlier. Chris will be joined by Bart Scott and Maggie Gray. Carlin will remain doing play-by-play for Rutgers football. Carlin's wife, Sheryl Spain employed by the University. Jon Marks (formerly 6 to 10 pm) has taken over Chris' afternoon drive shift and has joined Ike Reese. Marks was previously at 97.5, the Fanatic for a decade. Joe Giglio will take over the 6 to 10 pm slot.
Weekend air personality at WMGK, Rich DeSisto has started a new gig last month. He's the new Program Director for WJBR in Wilmington, a station in that market for six decades. Rich has spent most of his broadcast life here in the Delaware Valley where he was formerly the afternoon drive guy on BEN-FM. All three stations have the same owner, Beasley. Rich will continued his weekend time on WMGK in addition to his new duties.
WBEB-FM (More FM) Philadelphia's annual competition has invited area schools to send a holiday song from their school's choir for cash prizes plus the opportunity to sing at the Kimmel Center with the Philly Pops! The 101.1 More FM Christmas Choir Competition targets area schools to find the best school music group or choir in the Philadelphia eight-county area. The contest features two divisions. The first is Kindergarten through 8th grade and the second is 9th through 12th grade. Nine semi-finalists are chosen for each division from submissions collected during the entry period. The station flipped to all-Christmas music in mid-November and will stay with that format until Christmas Day.
WE REMEMBER:
Fran Murphy, 75, passed away last month. Fran spent many years in radio sales management at WUSL (US1), WFLN, WEAZ (now More FM) and more. He also ran a broadcast travel incentive company, working with many Philadelphia area media stations. Murphy attended many Broadcast Pioneers luncheons and his daughter Monica Alexy has also worked for CBS Radio (now Entercom) and currently is at Pandora.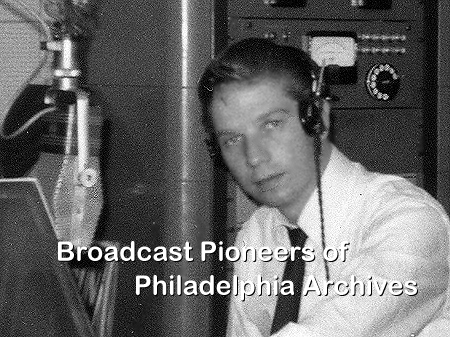 Veteran Philadelphia radio personality and traffic reporter Rod Carson worked in the radio business for more than 50 years. As a pioneer in traffic reporting in the Delaware Valley, Rod was one of the founders of Shadow Traffic, creating the method of traffic reporting that is still the standard nationwide. He began his radio career in 1958 at WCOJ while still a sophomore in high school and had a regular radio show on the station by the time he was a senior.
He hosted the innovative program "Rock and Roll Roots" on WMMR, and did deejay and news stints at radio stations WSNI, WIOQ, WPEN, WWDB, WIBG and WDAS where he did the morning shift for five years. When the station changed formats, he was one of the few carry-overs from the rock format to oldies to urban contemporary. Finally, he worked in the WDAS news department. Rod passed away in 2017, at the age of 75. He was a member of the Broadcast Pioneers.

THIS AND THAT! Little Bits of Information ....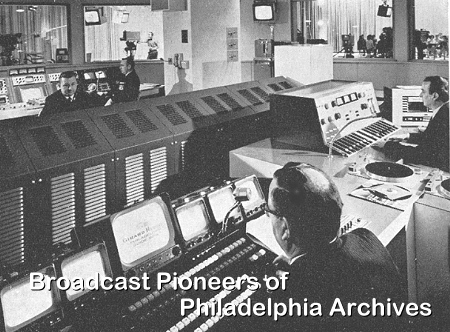 At the end of 1932, WCAU Radio started a new program called, "Young America." The live broadcast featured a group of teenagers who were on the "Horn and Hardart's Children's Hour." The kids were thought too old to be on the H&H show, but the station didn't want to waste their talent.
For the November 1950 elections, WTTM in Trenton had extensive coverage. Anchor George Taylor and News Editor Arnold Snyder reported results from the studio while Roy Grove and the station's Special Events Director Ernie Kovacs gave the public details from county and state headquarters. Kovacs was doing double duty. Hey what so at WPTZ, Channel 3 here in Philadelphia. He hosted cooking and fashion shows. The famed "Three to Get Ready" live morning telecast started a couple weeks after the election.
Shortly after Broadcast Pioneers member Max Leon bought WDAS Radio for a half million dollars, one of his daughters, Sonia Leon started her very own program where she sang to the Philadelphia audience. At the same time, local WDAS disc jockey Dave Blue went to New Rochelle, New York and WGNR.
In the spring of 19i57. WLBR-TV, Channel 15 in Lebanon, Pennsylvania was sold to Triangle Publications which also owned WFIL-TV, Channel 6 here in Philadelphia. The central Pennsylvania station had been off the air for three years. The license sold for $ 115,000. When Walter Annenberg sold his stations, this one went to Broadcast Pioneers members Lew Klein and George Koehler. During 1957, the station operated from 3 pm until 11 pm and 3 pm to 10 pm on weekends. WLBR aired some of the WFIL-TV programming including Bandstand and Sally Starr.
In April of 1977, WPVI-TV announced that reporter Jim Gardner was named the station's main anchor, replacing Larry Kane who was leaving the station for WABC-TV. At the same time, the station's weather guy, Jim O'Brien, also started co-anchoring the Action News noontime telecast.
During April of 1924, WDAR Radio, later known as WLIT (owned by Lit Brothers) broadcast two hours of light classical music from 2 pm to 4 pm on Sunday afternoons. WFI Radio carried a church service at 7:30 pm from the Grace Reformed Presbyterian Church on Arch Street. Eleven years later, WFI and WLIT merged together to form WFIL Radio.
Howard Jones is best known as Happy the Clown. However, in pre-clown days, Mr. Jones was known for his radio farm broadcasts. Many of them included his wife, Mary. He broadcast a half-hour of farm news and stories direct and live from his 40 acre ranch north of Norristown. It aired live on WFIL Radio at 6 am. Mary also had her own show on the station in the afternoons (1:30 pm). Howard was also often heard on those programs.
Dr. Leon Levy, one of the major owners of WCAU Radio during the 20s, 30s and 40s, served as a Lieutenant in the U.S. Navy reserve during the Second World War. After the conflict, he brought in others from the military including Naval Commander Joseph Tinney as his assistant. Tinney ran the PR department for the Fourth Naval District. He also brought back John Leitch who also served as a Commander. John was in charge of communications for Greenland and then the South Pacific. He returned to his post at WCAU as Chief Engineer.
Last month, we talked about the Baker Bowl in this newsletter. Well, we heard from member Skip Clayton, who gave us more info. He said:
The Phillies first game there was April 30, 1887, and they played last game there on June 30, 1938. The Phillies record at Baker Bowl was 1,956 wins, 1,775 loses, 30 ties, 3 no decisions. When the Phillies played Game 2 of the 1915 World Series at Baker Bowl, President Wilson was the first President to attend the World Series. It is true that the Phillies never played a night game there, but the Eagles first game at Baker Bowl was a night game.
THANKS FOR THE MEMORIES:
Some recipes from Herb Clarke!
We have in our archives, every garden report script that member Herb Clarke wrote when he was doing "The Garden Report" on KYW Newsradio. He did them for years. On one of the 2002 broadcasts, Clarke discussed good uses for green tomatoes. We thought you would like to see that he had additional information in the form of recipes. Herb was our "Person of the Year" in 1991. Clarke also served as President of this organization during 1988 and 1989. He wrote:
I don't want to assume the role of Martha Stewart, but last week's effort to find a use for green tomatoes apparently was well-received. It was a recipe for Green Tomato Pie, created by a late Flower Show friend, Rosemarie Vassaluzo of Langhorne. Today's final recipe is for Whole Wheat Green Tomato Muffins. Here's what you'll need to fix it:

1 cup of flour
1 cup of whole wheat flour
1 tablespoon of baking powder
Half teaspoon of salt
1 egg, beaten
Quarter cup of vegetable oil
Three-quarters cup of milk
1 cup of green tomato, minced
Quarter cup of chopped walnuts

Combine the two flours, baking powder, and salt in a large mixing bowl. Make a well and pour in all wet ingredients (except the tomatoes) and mix until flour is moistened. Gently add minced green tomatoes and walnuts. Mixture should be "lumpy." Grease muffin cups or use paper liners. Fill each cup 2/3 full and bake in a 400-degree oven for 25 minutes. Cool and serve.

Here is the Rosemarie Vassalluzo Green Tomato Pie Recipe:

3 cups sliced ​​green tomatoes, drained
6 Tbsp. lemon juice
1-1 / 3 cup sugar
4 tsp. grated lemon beef
½ tsp. cinnamon
¼ tsp. Salt
2 tbsp. butter

Mix all ingredients together except butter. Pour into pie tin, either greased or containing a pie crust. Bake 40 minutes at 400 degrees. Top with butter, cool, and serve.
Soul for Sale!
(The Story of Ed Eisen, Part Two)
Broadcast Pioneers member Ed Eisen's career in communications spans 52 years. He worked in radio, television, newspapers and pubic relations. He was a top 40 DJ, a TV producer, booth announcer, career counselor and read books for the blind. Ed wrote a book called "Soul for Sale". It's his life story. You can read his bio here! We thought you would enjoy hearing about how he first got started in the business. We present it in three parts. The second installation is presented this month with the remaining part next month. His story continues:
On weekends I hosted a call-in record show. Young fans, mostly teenage girls, multiplied like locusts. One of them, Wanda, a 17-year-old, invited me to visit her home in Blackwood, N.J. "I want you to meet my mom," Wanda said. "It will be a real kick."

It was. Ten minutes into our conversation I was convinced Wanda's mother, Penelope Dernakowski (not her real name), was a witch. She began by reading my palm. "There is good news and bad," she said, her dark eyes peering at the meandering lines on my sweaty palms.

"Some day soon you will take a long trip," she drawled, her voice trailing off. "It will be a trip for pleasure, a trip that will change your life."

Surely, that was a line I had heard before, I thought, preparing for a witch's brew of fantasy. As I took in the long chin, the pale face and the missing teeth, I conjured up scenes of turban-clad fortune tellers forever spinning tales of calamity and joy. Yet Wanda's mother was decidedly different. Mrs. Dernakowski was unlike the caricatures I had seen in movies and at the 50-cent reading parlors in old Atlantic City. There was no pointy hat, no black fingernails, no broomstick awaiting launch. There was just this thin, bony figure in a polka-dot house dress, seated at a wooden kitchen table.

As I was preparing to leave, I thought: "Here's someone's mother who could perhaps tell me whether my head is brimming with pipe dreams, whether my vision for a career in communications is but a fantasy. Will it all come crashing down? "

What this naive kid learned was that witches are rarely precise, their prophecies are more general than specific. Mrs. Dernakowski didn't say much about any of these matters except to confirm that I would experience "great success" as I traveled "for business and pleasure." Then she took a deep breath, sadness filled her eyes. "Later in your life," Mrs. Dernakowski said, "something terrible will happen to someone close to you." I pressed for details.

"My vision is too awful to tell. I cannot go on, "Wanda's mother cackled, her back arching. "But this I can tell you: You will survive. You will have difficult times. But it will end well. " A tear tread its way down her cheek. The visit was over.

I never saw Penelope Dernakowski or Wanda again. Yet I must confess the old lady's message haunted me all these years. It haunted me as I traveled across the continent, across oceans. I spent two years in Karlsruhe, Germany with the 7th Army. My hope was to transfer to Armed Forces Radio in Stuttgart. That didn't happen. The competition was staggering. I served my time employing the singular skill I taught myself in the seventh grade on my dad's Smith-Corona typewriter. I was a clerk guy.

A singular event highlighted my military experience. I entered a writing competition for services sponsored by The Freedoms Foundation. My piece on Protecting America's Freedoms took a first place award. For me, the bronze medallion encouraged me to pursue that lifelong career in communications.

Once I got back to the states, I resumed my search for work in radio. Doors appeared closed. Four months later I was hired at WJTN, a radio station in Jamestown, N.Y. I worked as a broadcast news reporter and hosted a Saturday night teen record show. My boss bore a name I found appropriate for his line of work: Hap Hazard.That was his real name.

Once he was nearly electrocuted by an improperly wired tape recorder. On another occasion Hap and I teamed to provide traffic reports from a convertible in snow clogged downtown Jamestown. Hap was driving and I provided color.

Suddenly our public service turned into a public hazard. A rear tire blew. We held up traffic on a two-lane highway for 50 minutes. My ad lib routine, the station manager told me what not my strong suit. He suggested I find another line of work.
Next month, we conclude this three part excerpt from Broadcast Pioneers Board Member Ed Eisen's book entitled, "Soul for Sale." Check it out.
Another Pixanne Story!
Member John Primerano has a great voice and plays a mean piano. His first taste of show biz was as a child. We'll let John tell you the story:
In the fall of 1961, I auditioned for The All Philadelphia Elementary School Boys Choir. It was under the direction of Dr. (of music) Carleton Jones Lake and was the forerunner of The Philadelphia Boys Choir that performed around the world years later.

The choir consisted of 368 members from all the elementary schools in the city. It was Dr. Lake's dream to have a choir like The Vienna Boys Choir and after being a member for about a month, we had the great opportunity to do an optional scene in the opera Carmen.

However, only 40 boys were needed and I was fortunate to be selected as one of the 40. The opera starred Marilyn Horne as Carmen and Franco Corelli as Don Jose. Corelli was the highest paid tenor in the Opera world at that time.

We performed it at the Academy of Music in April of 1962 and the small group did so well that Dr. Lake decided to keep it together in addition to the full choir. We did many things and one was the late Jane Norman's children's show on WCAU-TV, Channel 10 at the time, PIXANNE. In December of 1962, we did a Christmas show with her on her program.

Channel 10 advertised it on the air with a still photo of about 6 of us singing under a lamppost, a la Charles Dickens-style. I was featured prominently in the still and it was shown quite often, to my family's pride. If memory serves me correctly, because the show turned out great, it was re-run the following Christmas, again advertised with the same still photo.

Many years later, I met Jane Norman and told her I had been one of the kids on that show and she was delighted to re-live a pleasant memory. Many times, after joining Broadcast Pioneers, she and I would talk and the show always came up, leaving a smile on both of our faces.
A LITTLE BIT OF BROADCAST HISTORY!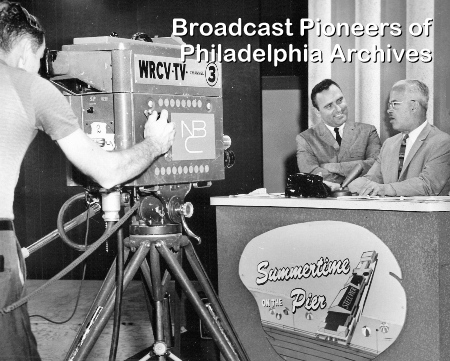 OUR HATS OFF TO YOU FOR GIVING:
We would like to thank the following for their contributions donated during our fundraising campaign around our annual banquet and membership mailing. They include: Dick Standish, Paula Wholey (of AIM Media Partners), Robin Mackintosh, Bob Kravitz, Mike Rogers, Steve Tatz, Bob Backman, Robert Levy (in honor of Herman Rush being inducted into our Hall of Fame), Mike Bove, Michael Yip, Tova Borgnine (in honor of Herman Rush being inducted into our Hall of Fame), Dona Simons, Kevin DeLany, Mike Strug, Steve Sacks, Mark Tomizawa, Ed McGinley, Carol Leebron, Mike Jerrick, Alex Halley, Bob Manning, Joe Tarsia and Mike Quinn.

We are a federally recognized, state chartered charity with a 501 (c) (3) status. Contact us at (856) 365-5600 or e-mail for more details. Your gift to Broadcast Pioneers will help us and may lower your federal income tax. That's win-win, isn't it?
Underwrite a complete scholarship and we'll give you credit in every electronic newsletter until the scholarship is awarded in April of 2018. Give us a donation of appreciated stock of $ 2,000 (or more) and we'll list you in our "Thank You" column for two years. Give us a donation of $ 1,000 or more and we'll list you in our "Thank You" column for a year. Give us a donation of $ 500 or more and we'll list you in our "Thank You" column for six months. You can select how we use the money: for our archival project, for scholarships or for our general fund to be used as needed.
Special Thanks (in alphabetical order) for the gift of Appreciated Stock (a federal tax advantage for the giver):
Member Marc Howard - $ 3,600 (put into our general fund to be used where needed)
Member Sylvia Kauders - $ 5,159.45 (used for the scholarships listed below)
Special Thanks (in alphabetical order) for contribution of $ 1,000 or more to our DAP, Digital Archival Project:
Member Jerry Del Colliano - $ 1,500
Member Johnny B. Hall and wife Ginny - $ 3,000
Member Harry Hurley's Golf Tournament - $ 1,000
The Shunfenthal Family (in memory of Sherri Shunfenthal's father, Les Waas) - $ 2,000
Member Marlin Taylor - $ 1,000
A member who prefers not to be identified publicly - $ 1,000
Special Thanks (in alphabetical order) for contribution of $ 1,000 or more into our General Fund to be used where needed:
Member Art Moore - $ 1,000
Member Brad Seecof and Metramedia Broadcasting & Studios - $ 1,000
Special Thanks (in alphabetical order) for April 2018 Scholarships:
Member Johnny B. Hall and his wife, Ginny - 7 scholarships
Member Harry Hurley's Golf Tournament - 1 scholarship (for a Stockton University student)
Member Sylvia Kauders - 1 scholarship (from a grant for 5 yearly scholarships running until 2019)
Member Kal Rudman - 5 scholarships (for Temple University students)
The Shunfenthal Family (in memory of Sherri Shunfenthal's father, Les Waas) - 1 scholarship
Member Marlin Taylor - 1 scholarship
Member Allan Tripp - 1 scholarship in honor of his 100th birthday
Special Thanks (in alphabetical order) for a contribution of $ 500 or more to our DAP, Digital Archival Project:
Member Lauren Lipton - $ 500
Member Bill Webber, Jr. - $ 500
The Philadelphia Eagles (in honor of Ray Didinger being inducted into our Hall of Fame) - $ 500
Armitage Shanks (not their real name) - $ 500
Bequests in their Will:
Member Sylvia Kauders passed away earlier this year. In her wish, she comfortably died $ 5,000 to the Broadcast Pioneers of Philadelphia. This funding is to be used to underwrite one scholarship per year until gone. These scholarships will start in the year 2020 and continue until 2024. From a previous gift, Sylvia has underwritten one scholarship a year starting in 2015 and continuing until 2019.

Member W. Carter Merbreier passed away a couple of months ago. In his will, he bequeathed $ 1,000 to the Broadcast Pioneers of Philadelphia. This funding is to be used to underwrite one scholarship, which will be awarded in April of 2017.
More Thanks:
A growing portion of the revenues that fund the different activities of the broadcast pioneers comes from donations. This includes our archival project and our scholarship program. Now we are making it even more beneficial for our donors. Broadcast Pioneers is now able to accept gifts of appreciated stock, which provides a significant tax benefit to you. By giving appreciated stock (stock which is worth more now than what it cost when it was purchased), you can get a charitable contribution tax deduction based on the current market value of your stock. At the same time, you avoid the capital gains
tax that would arise if you simply sell the stock. So if you'd like to support our educational mission or our archival project and save money on taxes too, please consider making a gift of appreciated stock. We are a federally recognized, state chartered charity with a 501 (c) (3) status. Contact us at (856) 365-5600 or e-mail for more details.
Many of us are over 70 and a half years old. If you are, you can donate directly to Broadcast Pioneers from your IRA Account. If you take a distribution and then donate to us, you would have to pay federal tax on the distribution. By donating directly to us, you pay no tax and we get the full amount. Remember, this donation must go directly to us in order for you to avoid paying income tax. This direct donation may also prevent you from going into a higher tax bracket. That's always good. Speak with your tax advisor about this.
Don't be left out. You too can make a pledge. It's never too late. You can earmark it for scholarships, our Digital Archival Project or our general fund. Thanks so much for your support. If you forgot to make an extra contribution (cash or memorabilia) and would like to do so now, you can do so. We would be thrilled to hear from you at: PO Box 2886, Bala Cynwyd, PA 19004, call us at (856) 365-5600 or e-mail us at:.

A FINAL THOUGHT ....
"Country music singer Tennessee Ernie Ford was thankful he was born on 'the right side' of Bristol, situated on the border between two states. 'Can you imagine going through life, he said, as' Virginia Ernie Ford?'"
Member Harry Harris
from an unpublished manuscript entitled
"TV Star Secrets"
sole copy resides on our archives
originally written in the mid-1970s
(Harry was the TV Critic for the Evening Bulletin & later the Philadelphia Inquirer)

Please contact us by e-mail at [email protected] or by mail to: Broadcast Pioneers of Philadelphia, PO Box 2886, Bala Cynwyd, PA 19004. Your stories are important to you, to us, and your colleagues. Contact us today and we'll include your story in the next newsletter!