Who is attacking the Palestinian Christians?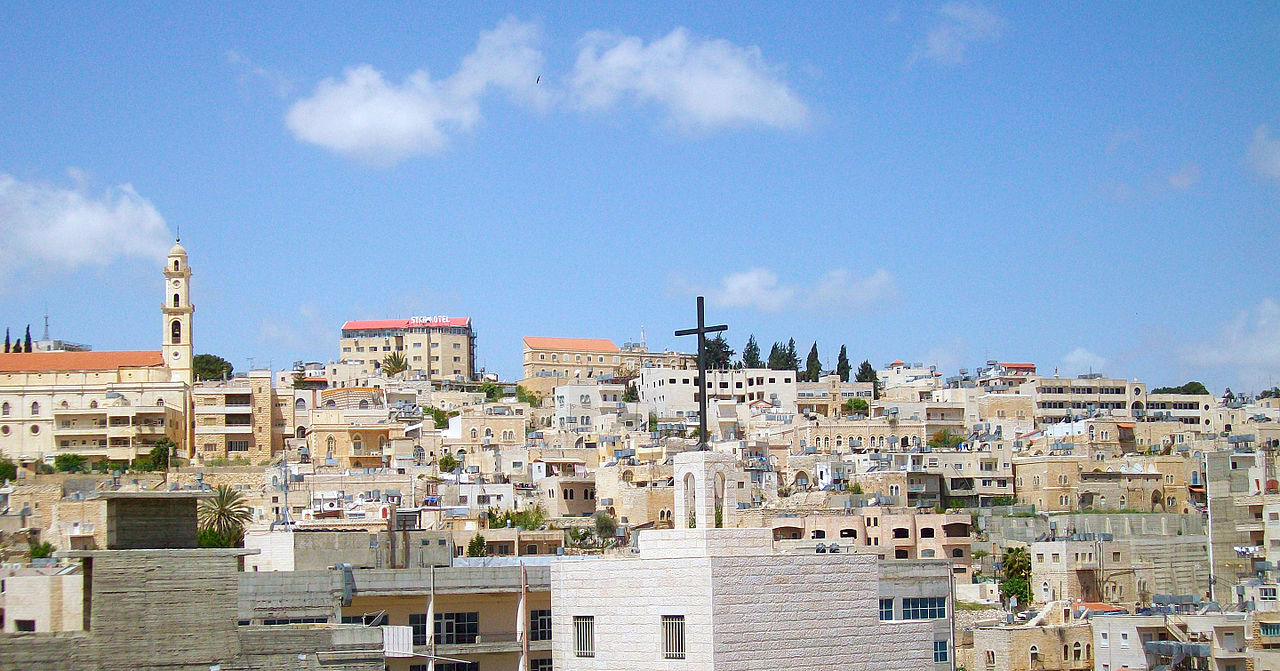 While Christian leaders are busy condemning Israel and spreading blood slander against Israel, Christians in Bethlehem (pictured) are repeatedly targeted by thugs and punks. (Image source: Daniel Case / Wikimedia Commons)
While Christian leaders are busy condemning Israel and spreading blood slander against Israel, Christians in Bethlehem are repeatedly targeted by thugs and punks.
The latest victim of this anti-Christian violence is Dr. Salameh Qumsiyeh, a Bethlehem gynecologist, who was brutally attacked by unidentified thugs on February 18 while driving his car through the city center.
According to eyewitnesses, four masked attackers stopped Qumsiyeh's car and beat him with clubs and sharp tools before they fled the scene. Qumsiyeh was taken to a hospital where paramedics said the wounds he suffered were severe.
The doctor's family, one of the largest Christian clans in the Bethlehem area, issued a statement harshly criticizing the attack, calling it "a sinful and despicable attack by a group of cowards and law breakers and violators of national and social norms" designated. The clan were shocked by the attack and were cautious when claiming that it was carried out by "mercenaries". He called on the Palestinian Authority (PA) security forces to do everything in their power to "arrest the cowards and bring them to justice".
Palestinian groups in the Bethlehem region also denounced the "brutal and cowardly" attack on Qumsiyeh. "We condemn this cowardly and suspicious act, which is alien to our traditions, in the strongest possible way," the groups said in a statement.
The Holy Family Hospital in Bethlehem further condemned the attack on Qumsiyeh and called on the Palestinian security forces to arrest the perpetrators and bring them to justice.
The attack on Qumsiyeh came just weeks after the death of a Christian woman from the town of Bet Jala, near Bethlehem, who died when Palestinian police officers stormed her home to arrest her son Yusef for unpaid debt. The woman was identified as Terez Ta'amneh, 63.
Ta'amneh's daughter, Marian al-Hajal, accused the Palestinian security forces of "killing my mother" and said that, as a Christian, she did not trust Palestinian law and the Palestinian police. "The seven police officers who raided our house," she said, "were led by Jamal Hmeid, a nephew of Kamel Hmeid, the Palestinian governor of Bethlehem.
On the eve of last Christmas, 76-year-old Fairouz Ijha, a Christian from Bethlehem, complained that she had been fighting in court for two years to get the family's land illegally confiscated by Muslims back. "Every time I ask the judge for permission to speak, he tells me, 'It's not your turn,'" said Fairouz. "If I had been a Muslim, I would have been treated differently."
A Christian teacher who referred to herself as "Diana" emphasized that discrimination against Christians is not new and has even increased. "The [Palestinian] police have separate rules for Muslims and Christians," she said. "For example, if there is a car accident involving a Christian and a Muslim, the police always side with the Muslim.
The plight of Christians living under the Palestinian Authority in the West Bank and Hamas in the Gaza Strip is often ignored by the international community and foreign journalists in the Middle East.
It is noteworthy that the Christian population in the Bethlehem area has decreased from 86% in 1950 to less than 12% today. In all of the West Bank, Christians now make up less than 2% of the population, despite being 5% in the 1970s.
In the Hamas-ruled Gaza Strip, the situation for Christians is even worse. The number of Christians living there has fallen from 4,200 in 2007 to only a few hundred today.
"Hamas took over my house and turned it into a control center," said Kamal Teresi, a Christian who recently fled the Gaza Strip.
"I've been put in several prisons and Hamas prison is nothing but beatings and psychological torture. We Christians are not supporting actors in Palestine; we have been in Palestine for 2000 years; we are not guests. They [Hamas] harass and." hurt the Christian public and Christian institutions, churches and associations. I cannot return to Gaza; a return would be a death sentence. "
While ordinary Christians say they no longer feel safe under the Palestinian Authority and Hamas, their leaders continue to lie to the world about the plight of their community. Instead of speaking out against the Palestinian Authority and Hamas' persecution of Christians, these Christian leaders are busy blaming Israel.
These Christian leaders seem to want the world to believe, possibly to avoid being targeted themselves, that Christians are fleeing Bethlehem and Gaza because of Israeli security measures against terrorists, and not because of the brutalities perpetrated by the Palestinian authorities and perpetrated against them against Muslims in the West Bank and Gaza Strip.
If that were true, why don't Muslims also flee because of the alleged Israeli measures? Incidentally, the Israeli security measures are usually not directed against Christians, but against Palestinian Muslims because of their involvement in terrorism. If anyone has a good reason to run from Israeli security, it is the Muslim terrorists and their families, and not peaceful and vulnerable Christians, most of whom are not involved in anti-Israel activity or terrorism.
What are Palestinian Christian leaders doing to defend their community? Unfortunately nothing. Some even join the Muslims who spread blood slander against Israel.
One of these clerics is the head of the diocese of Sebastia of the Greek Orthodox Church in Jerusalem, Archbishop Atallah Hanna, who recently claimed that Israel "poisoned" him in an apparently unsuccessful assassination attempt. Hanna, known for his vicious anti-Israel propaganda, claimed he inhaled a dangerous amount of poison when a gas canister was thrown through the window of his church room.
As it turned out later, Hanna's accusations were completely unfounded and merely the continuation of a despicable campaign of defamation against Israel.
An investigation by the Israeli authorities revealed that the church had invited an Israeli company to spray the church with pesticides. "We expect a clergyman to adhere to the truth," replied the Israeli Foreign Ministry to Hanna's blood libel, "and that clergymen around the world denounce these outrageous false proclamations and refrain from spreading this slander."
Hanna, like other Palestinian Christian leaders, is not just a liar but a traitor to his own community. Hanna has not uttered a word against the attack on Qumsiyeh and other Christians in Bethlehem. He does not care about the suffering of his people under the oppressive Islamist rule of Hamas in the Gaza Strip.
By ignoring the real reason Christians flee the West Bank and Gaza Strip, leaders like Hanna are encouraging anti-Christian Muslims and allowing them to continue their attacks on Christians living there.
As far as the international community and Christian institutions around the world are concerned, it is their greatest duty to investigate these blood calumnies by Palestinian Christian leaders to see if they are factually correct. If they don't, the day will come when not a single Christian will be left in Bethlehem, Gaza, and most likely in the Middle East, with the exception of Israel, where the number of Christians living there is increasing.
Bassam Tawil lives in the Middle East.
Subscribe to the mailing list
Related topics:
Palestinian Authority, Persecution of Christians get the latest articles by email: subscribe to the gatestone institute free mailing list